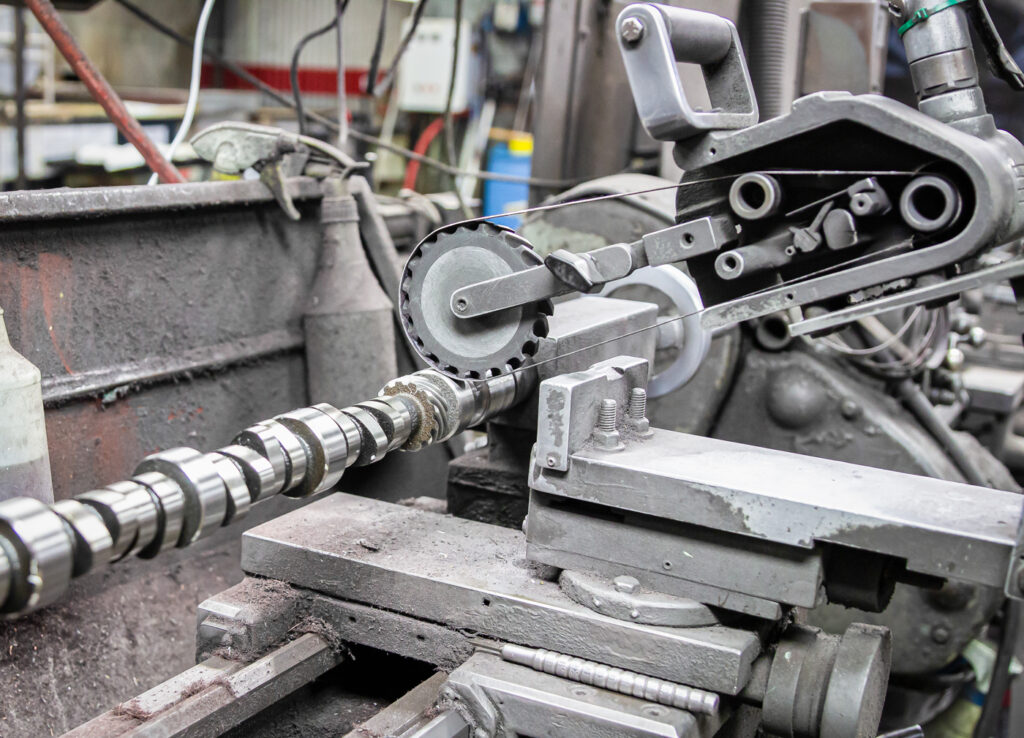 One of the most challenging parts of building an engine happens long before you ever turn a wrench. Whether you are a total newbie, a shade-tree mechanic, or a NASCAR crew chief, you have difficult decisions to make when it comes to the components. Making the right choices could mean the difference between breaking a world record and driving home with a wheelbarrow full of parts. For the average Joe, it could be about how the vehicle sounds, where it makes power, or how much gas mileage it gets. The problem is the number of variables and tight tolerances.
Engine size is the easiest decision, but the most significant consideration is the rotating assembly. The crankshaft and cam control the clearances for every moving part inside an engine. They must work in perfect harmony slinging metal at high speeds within some seriously confined spaces. Being off by thousands of an inch could cause an engine to run poorly or make it go boom. Cam selection is such a critical piece of the engine building jigsaw puzzle.
There are literally thousands of off-the-shelf grind options (type, finish, profile, etc.) from big cam manufacturers like COMP Cams. Manufacturers usually lump the cams into "stages" by how aggressively they perform or sound. For the most part, these stages cover most of the public's needs. But sometimes, they get requests for something that requires a custom cam.
How Do I Know If I Need a Custom Camshaft?
It's cool to say you have a "custom" something, but do you really need custom? Every cam starts as a solid piece of metal, so each is a custom grind at some point. Going custom doesn't always mean better, faster, or more radical. The best way to answer the custom question is to talk to an expert. They know what will work best because they live, eat, and breathe it.
That seems simple, but you need to make sure the expert is truly an expert. Chances are that asking the question on a forum or Facebook post will not give you the result you are looking for. You might get lucky but don't roll the dice with an engine. If they aren't asking in-depth questions, they aren't asking the right questions.
Whether you are building an engine for a Silverado to pull a camper or a fire-breathing Nitro Funny Car, there are some things you should have in mind before you even start the process. Too many people start building an engine before having all the variables defined. This can cause an issue down the road.
Things To Have Ready
Here are a few things to have figured out before talking to one of the engine builder techs at COMP or any builder. A little homework on your part will help them determine if you should consider a custom cam or if they already have something that fits your needs.
The first thing to consider is the vehicle's details, in general. What size engine does it have? Does it have a stall converter? What gear ratio do you want to run? Is it two-wheel drive or four?
The second consideration is the "goal" or purpose of the vehicle. Is it a stripped-down race car or something that needs civility on the street? Are you drag racing, street driving, pulling, or drifting? It could be even more specific — maybe you are looking to gain fuel mileage, engine longevity, or something anyone can drive.
All of these will be considered in the final cam recipe. "Stage Cams" are essentially custom cams that have already been optimized for the most common applications. If your application matches, it makes sense to go with an off-the-shelf offering — there is no reason to reinvent the wheel.
However, if it appears your needs are a little outside the norm, then a custom cam is probably the way to go. That is why this information is so important to discuss with the experts. Cams can be tailored to what you want to do with your vehicle.
Cost and Ordering
Generally, a custom cam doesn't cost any more than an off-the-shelf cam unless a unique core is required. These are often very rare and usually for super-specific applications. A COMP Cam tech specialist can determine that long before deciding to go custom. It may take slightly longer to get a custom cam, but usually only a few days.
COMP Cams makes it easy to start the ordering process. The Cam Recommendation Form allows you to enter your contact information and important vehicle information at your leisure. Most people don't know what a tech specialist will ask when they call. This form takes the pressure off you to have the information right then and there. It also helps jog your memory about things you may not have considered before. A tech will reply shortly to chat with you about your cam needs.
Initially, you provide the vehicle details: make, model, year, weight, axle ratio, transmission type, overall tire height, and torque converter stall speed. From there, you'll be prompted to enter more crucial information about your engine, valvetrain, fuel delivery, etc. It gets rather detailed, but these are basic questions a tech will ask you anyway, so you will be saving yourself from multiple calls and frustration to start with the Cam Recommendation Form.
Of course, you can always call the tech support line (1.800.999.0853) Monday through Friday, 7 a.m. to 7 p.m. Central Standard Time. Keep in mind that chances are you will have to answer many of the same questions from the Cam Recommendation Form, so you may save some headache by at least walking through it first. However, the techs recognize that ordering a cam can be a daunting experience, especially for new customers, and will gladly walk through the process with you.
Whether you end up with an off-the-shelf or custom cam, the process is the same. Unless you are direct-replacing an OEM cam, COMP suggests contacting them before ordering. Talk to a technician first to make sure you are meeting your goals. Whether off the shelf or custom ground, you will have a custom-tailored cam for your specific purposes. You will be happier in the long run.
To find out if a custom cam is needed for your project, or to get more information about custom grinds, visit https://www.compcams.com/custom-cams