Recently, we had the opportunity to attend the Musi Racing Shop Tour and Open House in Mooresville, North Carolina. While we were there, we had a chance to sit down with legendary engine builder, Pat Musi. Not only is Pat a top engine builder, but he has also spent a lot of time on the drag strip. He helped mold the careers of many well-known racers and enthusiasts over the past 50 years. We had a blast listening to some great stories and checking out some of the projects going on in the Musi shop.
Pat Musi Racing Engines is a state-of-the-art facility with a wealth of talent assembling high-performance engines from the street to behemoth Pro Mods. Musi's shop also houses the Edelbrock Race Center. We toured the building with Edelbrock Crate Engine Product Manager Will Philippin and Musi to see what goes on behind closed doors. We wanted to give everyone a behind-the-scenes look at how a collaboration of this sort works and what it means for the enthusiast. But first, a little background on the legendary man and how this all came to be.
"Why would you need to build your own engine when you can get Pat to build it for you?"

Edelbrock Crate Engine Product Manager William Philippin
Musi Legacy
What started out as Pat's Speed Shop in Carteret, New Jersey, has turned into a fully-equipped engine shop in Mooresville utilizing some of the most sophisticated machinery. The shop is equipped with a high-tech Centroid CNC machine, assembly shop, engine dyno, and every tool needed to make the best crate engines on the market. The Pat Musi Racing Engine program is a product of the expertise learned from all those years of testing. It is the legacy of Musi that makes the name so recognizable and trusted in the industry.
"Where it is today, I would have never imagined it," Musi said. "I started driving when I was 20 or 21 years old, and the guys I read about — Bill Jenkins, Ronnie Sox, Bob Glidden, Lee Shepherd — I immediately got involved match racing them. It was a cool deal to be able to race those guys and outrun them sometimes. I had the work ethic to do well and was willing to put in the time."
Pat has definitely paid his dues in the world of drag racing to back up his engine-building resume. Musi is an 8-time Pro Street World Champion, 4-Time PDRA Nitrous Wars Engine Building Champion, NHRA Pro Modified Event Winner, IHRA Pro Modified Event Winner, IHRA Pro Stock Event Winner, and NHRA Pro Stock competitor. That success and work ethic leads to a extensive customer base who depend on him.
Musi prides himself on listening to his customers. This allows him to obtain information from a vast number of competitors across a broad range of classes. He can use that information to innovate a better, more reliable engine. Of course, that pays dividends in the form of returning customers, but it also builds trust from the manufacturers he uses. One of his longest-standing alliances is with Edelbrock.
Edelbrock Partnership
The Edelbrock/Musi relationship began when Musi teamed up with Vic Edelbrock Jr. to develop the first Edelbrock/Musi 555 prototypes. The Patriarch of the Musi family credits Vic for taking him under his wing and teaching him a lot about business. He has been a product development consultant for the aftermarket-performance-product manufacturer for over 20 years. It has grown into the collaboration known as the Edelbrock Race Center, where street-oriented, ready-to-run engines are assembled within a part of Musi's Engine facility.
Anyone can buy a plain-Jane, off-the-shelf stock crate engine, but when looking for a powerplant with some hefty horsepower, it makes sense to go with a trusted racer. With the pedigree Musi carries with him, it is hard to argue against an engine built within the walls of his shop. "Why would you need to build your own engine when you can get Pat to build it for you," Edelbrock Crate Engine Product Manager Will Philippin says.
Because he's always run Edelbrock parts on his race engines where possible, Pat already sees dividends from the collaboration. "2022 is shaping up to be the best year yet of the Edelbrock/Musi partnership", he said. "We have a lot of momentum on the racing and engine building programs, and we're in a position to capitalize on the hard work that has been put in over the last few years to build the foundation of the Edelbrock Race Center."
While Musi is known for his monster drag racing engines, his collaboration with Edelbrock provides an option for horsepower aficionados on or off the track. Though there are discussions about increasing the offerings coming out of the Edelbrock Race Center in the future, the bread-and-butter engine is the big-boy 555 Edelbrock/Musi crate engine. And why shouldn't it be? There is nothing like the sound of a cammed-out big block in a hot rod or muscle car.
555 Edelbrock/Musi Crate Engines
The Edelbrock/Musi 555 is not your average crate engine. It's an entry into the exclusive club of people with custom-built machines envied by others. Every 555 crate engine is handbuilt by the 8-time Pro Street World Champion or his crew. Not only are these racing-pedigree engines attractive, but they also have a reputation for making massive power.
There's an engine and power level right for any build, offered in three different configurations, 800cfm carburetor, Pro-Flo 4 EFI, and Pro-Flo 4 XT EFI. The best part is no matter which option you choose, these engines can all run on 91-octane pump gas. Additionally, with any purchase, you can rely on 0% financing, free shipping, and a one-on-one call with the man himself to ensure you've got everything you need.
Here are the specs for each of the 555 engine configurations:
Edelbrock/Musi 555 Carbureted
This engine is assembled using nothing but the best Edelbrock parts, including in-house CNC-ported aluminum cylinder heads, Vic Jr. intake manifold, forged 10.0:1 pistons, forged steel crank, 800 CFM carburetor, Rollin' Thunder hydraulic roller cam and valve train, and Max-Fire ignition system.
Highlights:
800cfm carburetor
Rated at 676 horsepower with 649 ft-lbs of torque
Tuned to run on 91-octane pump gas
Competition ready
Edelbrock/Musi 555 RPM Pro-Flo 4 EFI
This option is for those who want the benefit of EFI, thanks to the Pro-Flo 4 EFI system. It is assembled with an intake manifold, fuel injectors, fuel rails, throttle body, and electronic control unit (ECU). It comes with a high-quality billet distributor, complete harness, 02 sensor and bung, fuel hose, hardware, and software. Though it comes loaded with engine-specific calibration, the handheld calibration module allows for additional adjustments without needing a laptop.
Highlights:
Pro-Flo 4 Fuel Injection
Rated at 697 horsepower and 643 ft-lbs of torque
Tuned to run on 91-octane pump gas
Competition ready. Can be used as an ultra-reliable street car engine – perfect for restomods!
Edelbrock/Musi 555 Pro-Flo 4 XT EFI
The most potent crate engine in the Musi line, featuring the powerful Edelbrock Pro-Flo 4 XT electronic fuel injection. The XT system has a highly engineered intake manifold with a unique design to produce more power and torque than traditional single-plane intake manifolds. It includes fuel injectors, fuel rails, 02 sensor and bung, throttle body, electronic control unit (ECU), and engine-specific calibration software loaded. The handheld calibration module allows for monitoring the vitals and any future changes.
Highlights:
Pro-Flo 4 XT Fuel Injection
Rated at 723 horsepower and 652 ft-lbs of torque
Tuned to run on 91-octane pump gas
Most powerful 555 crate engine package
Meet Norma Jean And Her Friend
As an extra treat, over at the open house that you can read about HERE, we saw some of the "test mules" that Musi Racing uses on the street and strip with the 555 installed. They aren't your standard R&D cars, as one might imagine. One is family-owned, and one is a customer car.
Street Outlaws: Gone Girl star, Lizzy Musi, is one of the Musi daughters who counts on Pat Musi Racing Engines to get into the winner's circle. We met her car "Norma Jean," the 'girl next door with a bad-girl streak. Norma Jean is the street-legal 1968 Camaro that Lizzy pilots on the show.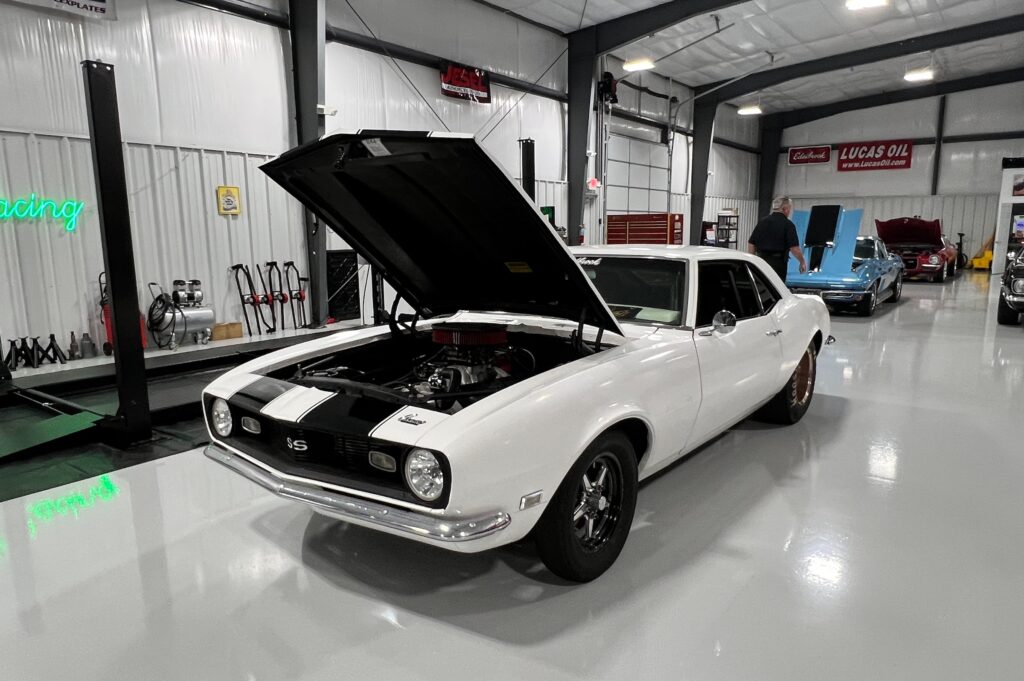 Pat Musi also presented a Camaro to one of his customers with the Edelbrock/Musi 555 installed. This is part of the Musi team's new venture with the restomod business. It's an excellent option for those who want something other than an LS-based powerplant or Chevy crate engine for their vintage cars, and you really can't beat the power.
Pat Musi Racing Engines Staff
Last but certainly not least, we'd like to acknowledge the staff who makes it all possible:
Pat Musi: Owner/Founder
Liz Musi: Controller
Ralph Musi: Office & Parts Manager
Robert Hallberg: Senior Engine Assembler
Ronnie Viccaro: Engine Assembler & Machinist
Joel Dubose: Cylinder Heads & Porting
Gary Preziosi: Honing
Jamie Blades: Disassembly
Azariah Alicea: Parts Cleaning
Tony Corrente: Crate Engine Assembly
Luke Woroniecki: Edelbrock Race Center
Evan LeBlanc: Edelbrock Race Center
Elliott Loe: Musi Racing Crew & Manifold Plumbing
Jeremy Aceituno: Musi Racing Crew & Order Fulfillment
The Edelbrock Group would like to thank Pat Musi and the crew for having us in the shop for a behind-the-scenes look at what makes the crate engine program such a success. We look forward to our continued relationship with the Musi family and can't wait to see what's to come!